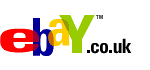 I have opened an eBay shop and have started uploading items. I will be experimenting for a while to establish what subjects, sizes sell best and what auction formats.
I made a promising start last week - I put 7 small prints up for auction and sold 5 of them.
I will be constantly adding to it and changing things. The link is
here
or click on the eBay logo.